Headline News Around the World
Civil divorce and the canonical delict of bigamy: "The 1917 Code did not consider the remarriage of the divorced under the crime of adultery or public concubinage (cf. CIC' 17 c. 2357 Sec. 2) since there existed, in their case, the celebration of an exchange of consent which has satisfied the conditions of common law marriage. In this manner, the 1917 Code stressed that the mere fact that civil marriage was attempted, there existed a worse delict committed: civil marriage of the Baptized. For this reason, "adulterous concubinage does not suffice for the commission of the crime (of bigamy) since the delict (of bigamy) is consummated only when the principals have exchanged their marital vows.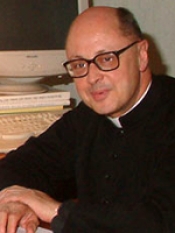 Monsignor Ignacio Barreiro-Carámbula, the chaplain of the Roman Forum, long time head of the Rome Bureau of Human Life International, and dear, dear friend ended his earthly pilgrimage to God at 2:00 A.M. today, Holy Thursday. His soul follows that of another dear friend, John Vennari, into Purgatory and---God willing---as swiftly as possible into Heaven. Our Lord and Savior Jesus Christ cannot but deal as mercifully as possible with both of these good, good men.
To give you just a bit of information about my beloved friend, Monsignor was born on October 22nd 1947 in Montevideo, Uruguay. After obtaining a doctorate in Law in Montevideo, he joined the foreign service of his country. From 1978 to 1983 he was a member of the delegation of Uruguay to the U.N. In 1983 he entered the Dunwoodie Seminary in New York and was ordained a priest by Cardinal John O'Connor on November 14th 1987, in St. Patrick's Cathedral, New York City.