Headline News Around the World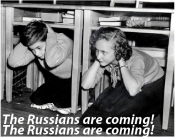 When, during that masterful press conference, Donald Trump told CNN's weasely interrogator Jim Acosta that he had changed his characterization of CNN's coverage of matters Trump from "fake news" to "very fake news," even the hostile audience of media jackals arrayed before him had to laugh, the response to humor and the truth it so often reflects being instinctive and difficult to suppress.

The "Russia investigation" narrative is the fakest of the fake news the liberal media propaganda organs have been pumping out ever since they realized that Trump might actually win the GOP nomination and—oh the horror—the Presidency itself.

On and on and on the amorphous "Russia investigation" goes, like a Hydra that sprouts new heads whenever a head is cut off. Now in its sixth month, the "Russia investigation" involves "the FBI, the CIA, the National Security Agency, the Justice Department, the Treasury Department's Financial Crimes Enforcement Network, and representatives of the director of national intelligence," as well as the House Intelligence Committee and the Senate Judiciary Subcommittee on Crime and Terrorism.
Dear Friends of John Vennari:
John is still with us, despite a great dea
l of suffering. That he is still here is in itself somewhat miraculous.
It seems just recently that St. Philomena has put herself in front of us again to get our attention and focus our prayers to her.
Please, then, join us in this novena to this great saint, beginning immediately, to end on March 20 (which is the date on which we celebrate the feast of St. Joseph this year).
We are asking her to obtain a complete cure for Joseph John Vennari.
Thank you, thank you.
Susan Vennari