Headline News Around the World
There have been many reviews of Fr. James Martin's Building a Bridge: How the Catholic Church and the LGBT Community Can Enter into a Relationship of Respect, Compassion, and Sensitivity. Most of them are negative, which almost automatically makes them better than the book itself.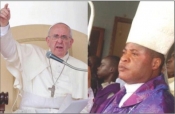 The clock is still ticking in the West African country of Nigeria, where Pope Francis has threatened to suspend a divinis any and every priest incardinated in Ahiara--even the entire diocese, if he has to--who persists by mid-July in resisting the episcopal appointment of Bishop Peter Okpaleke. Tribal tensions are to blame for the fact that many members of the clergy there don't want to recognize this particular bishop, or so it is alleged. The priests themselves have indicated, in no uncertain terms, that there are other factors in play. But let us accept for the sake of the argument that the Supreme Pontiff believes that an attenuated form of racism is behind the aggravated turmoil, since that is the reason he has given for the drastic steps being taken in addressing the situation.