Headline News Around the World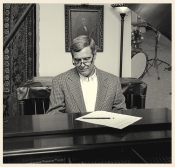 Dear Remnant Readers,
As we well know, over the past several decades, the entertainment industries have become cesspools for filth, garbage, and brainwashing.
I am a professional Classical and Jazz composer, arranger, musician, and music recording engineer and have traditional Christian values. As a consequence, I'm rejected by other musicians, along with many in the music industry, since I don't go along with their extreme liberal agendas. This makes me very much a loner as a musician.
I'm semi retired and play several instruments quite well in all my music recordings and music videos, including piano, acoustic bass, vibraphone, marimba, accordions, guitars, four string tenor and plectrum banjos, mandolin, drum set, and Latin percussion. In my studio I produce many jazz standards of the 1920s, 30s, 40s, and 50s, in addition to traditional French, Italian, Irish, Polish, Slovenian, traditional Latin American, and tangos.

In this day and age there seems to be little or no hope for being able to make a dollar from my music productions, especially given my traditional bent. It would provide considerable inspiration and fulfillment for me if I could get my music out to a large audience, even though I wouldn't make a dollar doing so. It is my hope that, considering all the filth, rot, and brainwashing that we've experienced over the past several decades in the entertainment, television, film, and music industries, perhaps you may be interested in the following the link to my YouTube channel of wholesome, professional music from days in the past when entertainment was far superior: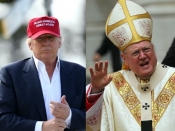 A-CNN's Don Persiflage had the opportunity to sit down with President Donald Trump today and conduct an interview. President Trump is currently running to be Pope of the Roman Catholic Church. What follows is the transcript of that interview:
Don:
Thank you for coming on the show, Mr. President; we're honored to have you.
Trump:
You're welcome, Don. As you know I'm doing you a favor as your network has been downgraded to extremely fake news in my opinion. It's just above Church Militant at this point, to be honest with you.
Don:
Well, we try to report the news as fairly as we can, but thank you Mr. President. As we know you are currently President of the United States, yet you are still running for pope. Now that you are president, wouldn't you have to resign the presidency if elected pope? READ MORE HERE