Headline News Around the World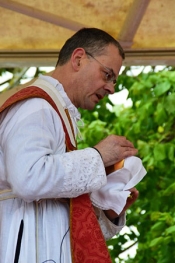 Editor's Note:
Father Guy Castelain is the chaplain of the Marie Reine des Coeurs (Our Lady Queen of Hearts) Confraternity in France, which spreads True Devotion to Mary according to De Montfort. This article was published in the April 2017 edition of the Confraternity's bulletin (#144, April 2017). Again, we ask for prayers on behalf of our faithful translator of these important contributions from Europe. MJM


On the March 19 2016, Pope Francis' post-synodal Apostolic Exhortation Amoris Laetitia on love in the family was published. Why speak of this pontifical document in a publication devoted to the spirituality of Saint Louis-Marie de Montfort? Because Father de Montfort casts a singular light on the problematic posed by this document.
To begin with, a little reminder. The leitmotif or the thrust of the Second Vatican Council was aggiornamento, or in Latin accomodatio renovata, that is, opening and adaptation to the modern world. Paul VI explained the meaning of this term in his opening speech to the second session (1963): "that the deposit of Christian doctrine be conserved and presented in a more efficacious manner" and that doctrine "be deepened and expressed following the research methods and presentation used by modern thought".
Editor's Note:
"Seeking Clarity: One year after Amoris Laetitia," was the name of an important conference which took place recently and just down the street from St. Peter's in Rome. The conference presented the interventions of six internationally renowned lay scholars who discussed the importance of a formal correction of Pope Francis, calling on him to at least answer the dubia of Cardinal Burke and the three cardinals over the disastrous Amoris Laetitia. Here is the gist of how the scholars approached the subject.
MJM
ROME: Italian
Catholic apologetics monthly "Il Timone" and online daily "La Nuova Bussola Quotidiana", both edited by Riccardo Cascioli, promoted a conference in Rome on post-synodal exhortation
Amoris Laetitia
with the participation of six lay scholars from five continents.
"Indeed, it is the first time for an international conference on the most debated and controversial points of Amoris Laetitia
to be organized by lay people and with the participation of lay people from different parts of the world", Cascioli pointed out in his introductory remarks. And as matter of fact the author of this article can testify that it was so true that only a few member of the clergy were present, in their personal capacity, with no high-ranking prelates in attendance.